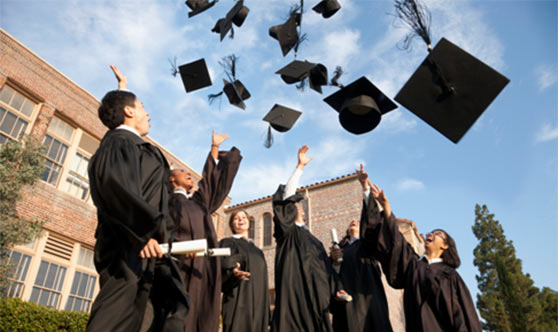 graduation DJ Service Company
Graduation Parties, yes. We love graduation parties at AZ Event Djs. Gradutaing from Middle School, High School, College, Grad School and need a great dj for your graduation party? We are the premier Event DJ Company in Phoenix and can make sure you celebrate your graduation in style.
We service the entire phoenix metro area and provide professional djs with professional equipment. Don't embarrass your son/daughter with that old guy dj with the laptop and the light machine, contact us we will send you a real dj that will mix live music for you and your guests all night long. Tell us some of your favorite groups and what you want to hear and we will help make your graduation party a success.
Please see our additional services page and contact us if you have any random reuests that may not be listed and we will see what we can do fulfill your any needs. Everybodyu loves playing music for all types of parties and special such as graduations and weddings, but the difference is you aren't going to get the traditional event/wedding deejay with the mixing software. We only book real djs with real turntables and real experience. See our Djs page for more information.
Please contact us via phone or email let us know if you would like to request clean/edited music for your graduation party at the time of booking.
---
Contact AZ Event DJs Today!
We are Phoenix, Arizona's first choice for professional DJ & event services.
---
Why Choose Us?
1
Professional DJ's
Book a professional DJ to mix music live on real turntables for your next event!
2
Years of Experience
Our DJs are also trained engineers to ensure that everything gets set up properly and sounds right.
3
Music Selection
It's your party! We play what you want to hear!! Tell us your top 5 favorite artists and we will go from there.
---
Our Mission
At AZ Event Djs, we are here to help you make your next party/event something to remember. Our business plan is very simple, we provide premium Dj Services at a competitive price throughout the entire Phoenix Metro Area. Our staff of Real Djs will put together a custom set of music for each client and mix the music live the entire night, and with extenuous music and experience we will make sure you have the right dj for the particular party/event. With a variety of custom packages and additional services such as hosting,social media promo, live audio/video broadcast, etc. we have something for everyone and more.
Our Services
House Parties
Special Events
Bars/Clubs
Weddings
Corporate Events
Pool Parties
Birthday Parties
Holiday Parties
& More!